New non-slip single capstan drawing machine ES355-6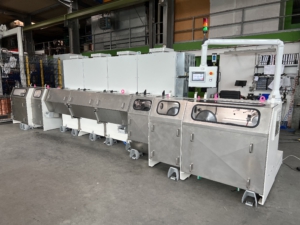 With the use of the latest drive technology, the drawing of high-quality special wires becomes a success. The ES355 slipless drawing machine does not require dancers, resulting in a minimum draw-in length and short set-up time. Wires from 0.5 mm to 5.0 mm are drawn with highest surface quality at speeds up to 6 m/s. Drawing dies from 0 – 21% elongation can be used. The variable adaptation of the drawing steps to the drawing die inserts makes optimum use of the drive power. Thus, the best drawing die sequence can be used for each wire material.
Applications include copper, silver-plated copper, silver-plated copper-clad aluminum (CCA) , silver-plated copper-clad stainless steel (CCSS), and many other materials. Due to the complete design in stainless steel, all drawing agents can be used. The 355 mm capstans are carbide coated and partially immersed in drawing lube, the drawing die inlet holes are sprayed with high pressure to wash out material deposits.
The drawing section is complemented by modularly designed pay off, dancers and spoolers, allowing the use of coils up to 560 mm in diameter. A coil pay off is also available.
https://www.schmidt-maschinenbau.com/wp-content/uploads/2023/03/IMG_7606-scaled.jpg
2560
1920
Holger Junkereit
https://www.schmidt-maschinenbau.com/wp-content/uploads/2022/05/Logo_schmidt-maschinenbau_340x125px.svg
Holger Junkereit
2023-03-28 10:35:36
2023-03-30 12:37:30
New non-slip single capstan drawing machine ES355-6